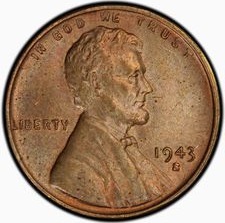 Back in 1947 a collector found a Lincoln cent that was struck on a bronze planchet in 1943 and kept it since that time. It will be one of the most interesting pieces at Heritage's January 10, 2019 Platinum Night auction being a part of the Florida United Numismatists convention.
The name of a collector is Don Lutes Jr, in 1947 he was a 16 y.o. at a high school in Pittsfield, MA. It is known only 20 pieces of this 1943 Lincoln cent struck on a bronze planchet issued by Philadelphia Mint. It is rare because all the 1943 coins were supposed to be struck on a zinc planchet to preserve the yellow metal for the war needs. However, few of the bronze group were issued. Back then Don Lutes wrote to the treasury dep of Ford Motor Co regarding his finding. He received an answer that such coins do not exist.
1943 Lincoln cents on a bronze planchet is a legendary coin that went farther than traditional numismatic circles, as students, coin collectors and regular people were daydreaming about it at some point of time. So, when Don found one, he was truly amazed. However, the answer from Ford Motor Corp indicated that the planchets were covered with zinc and not the copper. He decided just to keep it to himself. After that in 1958 he went to the New England Numismatic Association convention where he showed his precious coin to Walter Breen, who analyzed and examined it and told that the coin was true and real. This 1943 Lincoln cent in bronze is certified About Uncirculated 53 by Numismatic Guaranty Corp.
This coin is presented in both books The Complete Guide to Lincoln Cents by D. Lange and the Authoritative Reference on Lincoln Cents by J. Wexler and K. Flynn. This Lincoln cent has a package with research materials in addition.
The cataloger from Heritage wrote the description of the coin, indicating that it wasn't in circulation for a long time, the color of the piece is bronze-olive, some places reveal the steel and reddish patina. Also, there was mentioned that the coin was exposed to slight abrasives like a short stroke under the number 3 and skewed line over number 1, and the surface is fully original. Also, the bust is polished and there are few slight spots of the mint luster are still present.