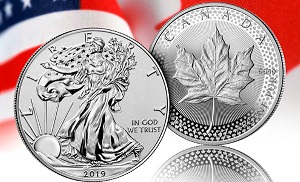 From 13th- 17th of August in Rosemont, IL the American Numismatic Association (ANA) World's Fair of Money will take place. The U.S. Mint and Bureau of Engraving and Printing (BEP) will join this amazing event in the booth #1825. The exact location is Donald E. Stephens Convention Center.
U.S. Mint Director David J. Ryder and BEP Director Len Olijar will be present at the opening ceremony on Tuesday, August 13, at 12:45 PM. (EST), after that everyone will be able to get their item signed at booth #1825 from 1:30 p.m. — 3:00 p.m.
On 14th of August, Wed, the U.S. Mint Director and Royal Canadian Mint President Marie Lemay will be open to sign the authenticity certificates for the upcoming international product of two mints 'Pride of Two Nations'. It will be available for purchase at the booth. This will take place from 10 AM till 12PM EST.
The Bureau of Engraving and Printing is going to put on display their "Billion Dollar Exhibit" that involves more than $1 billion remarkable and ancient collector's items, like whole sheets of $100,000 currency notes, precious metal certificates, and Treasury Bonds. You will also have chance to see real Plate Printer in action, showing the creation of currency on 19th century spider press. There will also be a chance to get Apollo 11 special commemorative print dedicated to the 50 years Anniversary of the Landing on the lunar surface.
BEP will also be selling new and the exclusive currency on that event.