Do you want to get ultimate fun from your hobby? - Choose the right coin collecting software!
If you love to collect coins and paper money, then this application is for you!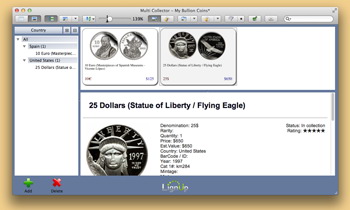 LignUp MultiCollector is a great tool for managing your coins and paper money collections. It has a user-friendly interface that's easily navigated and comes with lots of functions. MultiCollector is able to support several databases. You can add TAGs for data filtering to make the sorting process easier.
Use 'Add Web' feature to automatically download coin information and photos from popular online resources, like Colnect.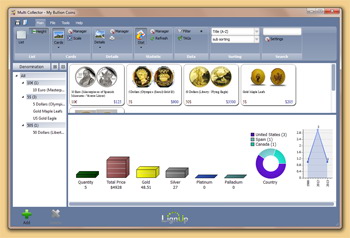 With MultiCollector's separate views, customers can customize their databases into a variety of layouts to make them easier to work with.
The tree and the table list views make the sorting of these layouts exponentially easier. Once you have your items categorized for easy navigation, MultiCollector's web search function can search your item by name or number and then add it to your layouts in just one click.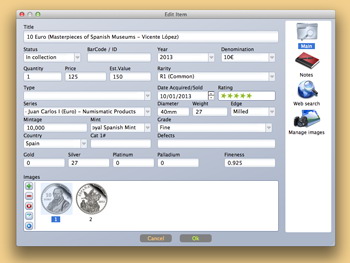 The camera capture function allows for taking photos of your coins and paper money, which can be cropped and fine tuned with internal image editor.
Watch for your collection statistic as a Pie, Bar or Line charts.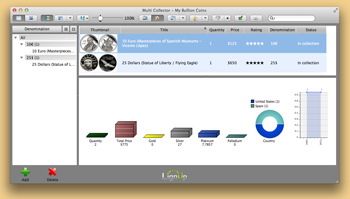 Finally, MultiCollector is a cross platform application with Free versions available. Use it on your MacOS or Windows by your choice.
As a big plus, you'll be able to use this application to manage any other items. This is so handle to have app to manage all your collectibles.
Some of the Premium features (paid versions)
Everything about the templates is fully customizable via the template editor. MultiCollector come with the ability to add/edit/remove fields for inputting data and formulas.
MultiCollector contains powerful features that other companies try to sell as external add-ons. The 'Advanced Report Editor' is like an additional report creator with a lot of functionality. You can create any type of reports and you can add Barcodes to create presentable labels for your items.
Generate your own statistics reports. Use predefined layouts, add your own formulas or even write your own scripts.
Display and Setup any cards templates for your coins and paper money database.
This amazing coin collecting software allows you to organize and analyze your coin investments with a powerful and easy-to-use personal database. You can maintain detailed data for all of your coins and paper money in this powerful application.

Start to use it right now!
Proceed with download of FREE apps immediately