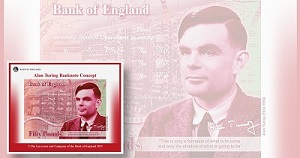 Bank of England will release a £50 note with Alan Turing on it, showing the concept for it. Also, they informed that this note will show the drastic changes to the usual notes design. This note shows the difference in approach to the $20 Federal Reserve note.
The latest revisions to the US paper currency are really different in speed from the strategy of the Bank of England. The £50 note with Alan Turing was announced in 2018 and the latest updates tell that it is going to be released in 2021.
On 15th of July, when an update about £50 appeared, there was a report by CNBC, stating that despite previous information about Harriet Tubman $20 bill and concept to be released in 2020, it is unrealistic and not going to happen. It was confirmed by former Engraving and Printing Director Larry Felix, who told that 2020 date is not supported by any realistic time frames. As of now the U.S. didn't have enough time and security technologies for redesigning and proper protecting of the notes. The more realistic date of the release is set for 2028.
He also commented on the differences in British approach to work and the U.S. approach when it comes to releasing and designing new paper notes. He told that there is no way the U.S. Treasury will show the concept of the $20 design by 2020 as it was promised by Jacob Lew, since in this case the counterfeiters will have around 10 years to practice copying this design.
On 15th of July the Bank of England showed the concept of £50 note, however, it is clearly visible that the note is deprived of many security features. It was done on purpose by the Bank of England, so all the security means are hidden from the publicity until the date of release in 2021.