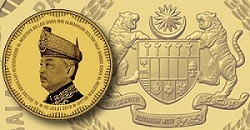 On 26th of July the Bank Negara Malaysia demonstrated the new coin for collectors due to an honoring of the inauguration of the new king, who was crowned on the January 31st, 2019. The title of the Malaysian king – His Majesty Seri Paduka Baginda XVI Al-Sultan Abdullah Ri'ayatuddin Al-Mustafa Billah Shah Ibni Almarhum Sultan Haji Ahmad Shah Al-Musta'in Billah.
He is the 16th monarch, chosen by the Conference of Rulers among 9 members of Sultanates for the next 5 years.
The meeting which has chosen the Sultan of Pahang as the king took place on the 24th January, following the announcement by the previous king about him dismissing from his position.
There are three coin's variations from precious metals like gold, silver and bronze. They share the same design. The head side depicts the new king, has the effigy of his title and full name. There is also an umbrella with 14 corners, as a sign of a new king protector of the land (14 states of Malaysia), like umbrella that saves from bad weather.
The back side shows the engraving of the royal title: His Majesty Seri Paduka Baginda Yang di-Pertuan Agong located at the center of the reverse. The honoring engraving "PERTABALAN SERI PADUKA BAGINDA YANG DI-PERTUAN AGONG XVI", is located over the monarch emblem, and the title "BANK NEGARA MALAYSIA" is visible at the bottom with the respective denomination of the piece. The furnishing detail of the 14-cornered umbrella is located around the coin as well.
| Denomination | Metal | Weight | Ø | Quality | Max Mintage |
| --- | --- | --- | --- | --- | --- |
| 1 ringgit | Base | 8.5 g | 30 mm | PR | 20,000 |
| 10 ringgit | .999 Silver | 31.1 g | 40.7 mm | PR | 1,500 |
| 100 ringgit | .999 Gold | 7.96 g | 22 mm | PR | 300 |
Please be aware that in order to make sure the trade is fair to everyone, there is a limitation to 1 gold coin, 2 silver coins and 3 bronze coins per household, since this is a limited-edition coin. The coins will be available for purchase on 19th of August, 2019. In case of overcrowding, the balloting system will be applied.