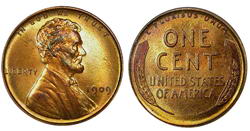 The scale from P-1 to EF-49 shows circulated coins in the scale. Beginners usually have many circulated coins and thankfully, these circulated coins are easy to grade especially when compared to the AU and MS coins.
To start off with, you will need a proper light source. A 100-watt bulb is an excellent example. If it is in a lamp placed on your study table, it is perfect. You will also need a proper magnifier that can magnify to at least five times. Eight times is even better. The magnification may be denoted as 5x and 8x. Anything stronger is not needed for coins and anything lower will not help you with the smaller damage marks and other important details.
Find out the right "bucket" for your coin. Is it in Mint State or does it have a few hints of wear here and there? Or is it highly worn and circulated?
Now use the scale above to compare the properties of your coin and check where the coin goes. Know that the numbers are not proportional at all. You will see that the detail loss between EF-40 and EF-20 is different and the detail loss from MS-60 to EF-40 is different. Check carefully and you will see that the EF-40 graded coin has lost not more than 10% of its detail but the coin graded F-20 has lost around 60% of its detail. The written descriptions will help you grade the coin. For precise grading, you can check out The Official ANA Grading Standard book. This will help you grade every type of coin in the U.S. It also has photos to aid your grading.