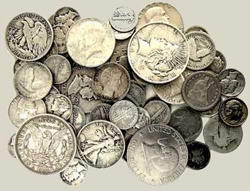 Collectable Coins are available in a number of places.
You can't pick out a single or a few places are the best for collectable coins.
The place you choose mainly depends on your preference.
There are many different sources for you to choose from.
Some of these sources have been listed below:
Pocket Change: To start off with, search your pockets; lay out all the coins you have, and pick out those which you find very interesting.
Of course, finding rare and valuable coins in your pockets is difficult. But you can start off with the coins you have. Some examples are Presidential Dollars and 50 State Quarters.
Coin Shops: You can check out coin shops for your coin collection.You can find a number of coins at coin shops regardless of your budget. Some of them could have baskets of coins on which you could bargain and buy at inexpensive rates. The coins in these baskets won't be too valuable but they will be enough to get your collection going. Coin shop owners are usually experts and they know a lot about coins. If they are not to busy, they will be more than happy to talk to you about coins and help you with your collection. They are in business and they can't take time out for you to answer your questions when they have customers waiting for them. However, some simply love talking about coins whenever they can.
Coin Shows: You must attend all the coin shows held in your locality. At coin shows, you will find numerous coin dealers together.
You can talk to them and compare the rates offered by them or simply learn about grading from them.
You should, however, be very careful because not all dealers who attend coin shows are reputable.
Be careful when you make a purchase. Make sure your grading skills are respectable first. You can try this site to locate coin shows in your area:
Internet and Mail Order Sales: You can use the internet to your advantage easily because many dealers use the internet these days.
Again, it is important to be cautious mainly because you can't see the coin before making a purchase. Hence there is no guarantee that you will get the same coin, which you saw online or that which was described to you. Here are a few tips if you wish to do business with online dealers:
If he does not give you a phone number for direct contact, stay away from him.
Google the company and find out reviews form other people. You will know of their services.
The company should have a return policy so that you can return the coin if you are not satisfied.
Insist on insured mail for safety. If they don't offer this service, don't make your purchase because if the item is lost, you will lose a lot of money.
Also, if the package is damaged or shows signs that it was previously opened do not accept it.
Auctions: There are Online Auctions, Mail Bid Sales, and traditional Auction Houses that you could visit for collectable coins.
These offer a number of options to you as a collector.
You can bid through the mail or phone or you can attend it in person. You can also bid online or you can pay someone to bid for you.
Before starting, go through the terms and conditions, the fees, the return privileges, and so on.
Limit yourself beforehand by setting a spending limit and make sure you don't exceed it. Remember that it is very easy to get overexcited and keep bidding without keeping a track of the money you can afford. You will end up chewing more than you can swallow.
Be very vigilant when you purchase coins at the auctions.
You should be aware of which coin you are bidding on and how much it is worth so that you don't go bidding too much. This is especially important if you are bidding online on eBay and other such sites.
Yahoo! is also a popular auction site along with eBay. You can also find other sites, which strictly deal with coin auctions. When you bid online, always make sure you check the feedback of the seller so that you are sure he is reputed.
Other Collectors: Aforementioned are not the only places where you could find coins. There are many other good places such as coin shows and coin clubs. Beware though, that it is not easy to find a dealer who is selling that which you want.
Flea Markets, Yard Sales and Estate Sales:
Once in a while it is okay to check out these places. You might get lucky and find good coins here. But, you should never go there unless you know a lot about grading, otherwise you'll be ripped off.
Other Places: Local banks are a good place. You may not find valuable or rare coins often here but if luck shines upon you, you just might.
Thus, finding collectable coins is not very arduous. The only thing you should keep in mind is that you should know beyond the face value of a coin.