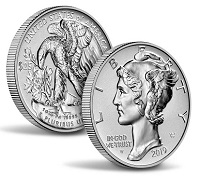 2019-W American Eagle palladium $25 coin will be issued on September 5th, 2019 and will be reverse proof.
In an interview to Coin World, the public relations representative for the US Mint Michael White informed that there will be 30K coins. It is twice as much as the amount of coins issued last year with just proof finish.
In order to provide fair purchase opportunity, for this series the US Mint enforces household order limit as 1 coin within the first day after the start of sales. The next day the limitation will be waived.
As of now there is no information on the pricing for the ounce of palladium (.9995 fine). It should become available closer to the date of release since pricing depends on the spot price + other factors, so it is highly flexible.
Last year US Mint released the series of palladium coins Proof 2018-W American Eagle, the total quantity was 15K pieces and also had a household order limit 1 piece. It was sold out within few minutes on 6th of September, 2018 after the start of the sale with coin price $1,387.50.
Both coins from 2018 and 2019 have similar design. The $25 palladium coin's heads side was inspired by Winged Liberty Head by Weinman, that initially appeared on the dime in the period of 1916 to 1945. The backside has the design by the same engraver and designer 1906 eagle that was first made for the American Institute of Architect's gold medal, firstly presented in 1907.
Standard Proof finish has polished fields and frosted devices. A Reverse Proof finish is known for having frosted finish only on the fields and burnished devices.