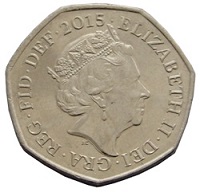 Though the situation around "Brexit" everyday gets more and more controversy, the only certain thing as of now is that the Royal Mint is going to present the special coin to spot the even in history.
According to the information from the UK government, the annual budget for 2018 had it in their plan for October
Royal Mint representative – Amy James confirmed in her email to one of the sources that the Brexit coin will be issued on a 50-penny. However, there is no information regarding the metal options that will be available.
To remind, in 2016, the UK government decided to exit the European Union, and started the process. It led to opposite reaction of the society, prolonging the process up to nowadays. The next step towards Brexit should happen in March, 2019. Since there were a lot of controversy associated with Brexit, nobody truly expected the Royal Mint to struck a coin to mark this event.
The Royal Mint usually commemorates lots of events like entering the European Union, Olympics, 1st World War 100 anniversary and so on. Now, Brexit will be one of the historical events reflected in coins, following the tradition of Royal Mint.
In the budget document it has been stated that in order to maintain the tradition to forge the coins when it comes to historical events, the Royal Mint will issue a Brexit coin that will be available starting from spring 2019.
Back in 1973, by the time UK joined the European Union, it was marked by issuing a 50-penny coin. Also, 50-penny coins were issued to commemorate UK's Presidency in the EU Council in 1992, and then 25st anniversary of the UK in the EU in 1998.
As of now we don't know the metals options provided by the Royal Mint. However, according to the history with related events, we can expect Uncirculated base metal. Also, there might be 50-penny coins in gold and silver in Proof. It would be great to have piedfort silver and platinum versions.