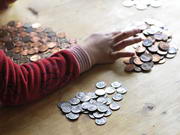 You don't need a big budget to start a coin collection. I will teach you how to start your own coin collection with a small budget. You can start today and enjoy your collection for the rest of your life.
Basic Tools
When you begin your coin collection, there are a couple of necessary must haves. A magnifying glass and a pair of soft cotton gloves will allow you to examine carefully each coin that you are considering adding.
Use Care
It is important not to damage the coins you want to add to your collection. Wear your gloves and carefully grasp each coin by the edges only. This avoids damaging the surface of the coins with the oils from your fingers. While you are holding them in this manner, use your magnifying glass to inspect each coin carefully for color quality, damage, mintage, and how sharp the strike is.
Adding to Your Coin Collection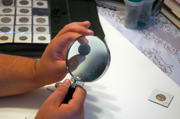 When you know which coins you want to start your collection with, purchase protectors for them. There are many options available, but I would recommend air-tight coin holders made of plastic, 2x2's or coin flips to protect your coins. This will ensure that each coin in your collection is well preserved.
Other Types of Coin Collection Storage
If you want to gather multiple years of the same coin, there are companies who make coin folders and albums made specifically for this purpose. These albums are an excellent way of storing this type of collection. As your collection grows, an exceptional way to expand it is with certified graded coins. These are sealed inside a hard, clear plastic case, and include a certification label above the noted coin.
Once you have your individual coins well protected, organize them in sturdy storage boxes that can be stored in a secure location. Also, if you want to add mint condition uncirculated coins to your collection, these proof coins may be ordered from http://www.usmint.gov and are usually sold once a year and arrive at your door pre-sealed. When you receive your coins do not remove them from their original packaging so that they retain their full value.
Different Coins for Your Collection
There are virtually no limits to the types of coins you can collect. There are different coin mintages, different grades of coins, certified graded coins, and a host of other variations. Have fun with it and discover which coins you like the most. However, no matter what kind of coins you decide to collect, make sure that they are stored securely, preferably in a secure locked safe.