The collecting of coins is a very old hobby, as it exists as long as people use coins. This hobby is the one that can bring real joy and rewards. If you have good knowledge and patience, the samples from your collections can evolve in value with time. Lots of people who have interest in coin collecting, don't really know how to start, as it is quite a vague task. You probably have a lot of questions.
We decided to create a list of the most popular questions to help you start your way into coin collecting world.
1. How to start collecting coins?
There is no perfect age to start collecting coins, as every age suits. At first, you need to understand what type of coins you are most passionate about, which ones attract you more. Maybe you would want to start from the topic that is connected with your interests, like illustrated coins or special editions that you might like. Maybe you are more into history and historic events, great people and those coins that have an amazing story behind them are just for you. It's up to you. The best first advice we can give you is to just choose an area of your focus for you start. It will be easier for you to navigate later. With the growth of your collection you would probably want to get a good album to organize your collection in one place.
2. Why Is a Coin Valuable?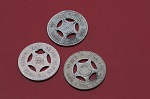 The main thing here is knowledge. It is great to check information about your coins as soon as you get one. Maybe you have heard about the excitement in the coin collecting world about new £5 notes last year, when they were only released. The collectors were ready to pay hundred pounds for it. The same situation is with coins, in order to understand which one is the right, you need to know trends, be detail-oriented. Here are some points for you take into account.
- Issue Limit – is the biggest amount of coins minted for a certain reason. The coins with low issue limit are considered to be rare, though the true demand is usually the main feature that influences how much the coin is worth.
- Grading – is a method to identify the quality of original mint, the up-to-date condition of this coin, how much things influenced and left trace on it and how it changed since the day it was minted. All these factors will influence the resulting value of the coin.
- Toning – with time passing by the surface of the coin experiences some chemical changes due to interaction of the metal with oxygen creating a coating called patina. Not every type of patina is attractive, however in some cases the natural patina can give extra benefits to the coin.
- Metal content – some people are fans of coins from particular metal. So, it is quite handy to know the content of metal in samples of your collection. Coin collectors often tell the melt value in order to estimate the total value of their collection. Usually, the metals include gold, platinum, silver and copper.
If you have found something extraordinary in your collection, get ready for other coin fans to contact you trying to get this coin from you. Usually they offer very flattering prices.