The Royal Canadian Mint had issued unusual coins for collectors. The subject of design for the new series of coins is famous superheroes from the movie Batman v Superman: Dawn of Justice, which will be released nearest time. Three of heroes are shown on the tail side.
The official series of Batman v Superman coins includes one golden coin, one 2 oz. silver coin, one 1 oz. silver coin, exceptional 3D coin and four ½ oz. silver coin subscriptions. As well there is an opportunity to buy 20$ silver coin for 20$.
The website of the Royal Canadian Mint informs that they are happy to introduce an extraordinary series of amazing coins, subject of which is fantastic film Batman v Superman: Dawn of Justice.
Film about known all over the world superheroes is planned to release on 25th of March, 2016 in the theatres of America and Canada. Below there is information about new series of Canadian coins:
Golden Coin Batman v Superman 2016 with the legal face value 100$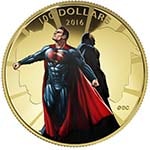 Each of these coins is a masterpiece made of 14-karat gold. Weight of one coin is 12 g. Its diameter is 27 mm. This coin has a proof finish. On the image we see Superman standing by a person to the spectator and back of Batman. As well inscription "100 DOLLARS 2016" is on it.
Only 3 000 of such coins are available. Every ordered coin will be delivered in its exclusive packaging. You may see coin inside the package if you twist it apart. Price is 749.95 Canadian dollars or 538 American dollars.
2 ounces Silver Coin Batman v Superman 2016 with the legal face value 30$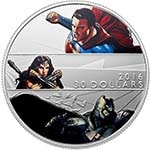 Material, chosen for this coin, is 99.99% silver. The scenes with superheroes (particularly Batman, Wonder Woman and Superman) are drawn on it. Weight of each coin is 62.67 g. Diameter of such coin is 54 mm. The finishing is proof.
If you decide to buy such coin, you'll get it in with an exceptional display case. Just 7 000 of such super hero coins are available.
Official price is 189 Canadian dollars or 136 American dollars.
20$ Silver Coin 2016 dedicated to Batman v Superman Trinity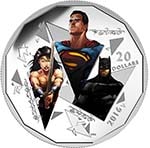 On the reverse of such coin there are colorful pictures of superheroes also. Seems, Superman, Batman and Wonder Woman are engraved on the pieces of glass. Like the other coins of the series, this silver coin has a proof finish. It is made of 99.99% silver. Weight of each of coins is 31.83 g, and its diameter is 40 mm.
As well together with this coin you'll get exclusive display case Batman v Superman. Official price is 109.95 Canadian dollars or 79 American dollars. 12 500 coins are available to buy.
Extraordinary 3D Coin 2016 dedicated to Batman v Superman by official face value 25c
This coin is very unusual due to its 3D effect as well as hologram image. The picture on the coin changes in dependence of angle of view. Superman in red colors or Batman in black colors appear here.
This coin is made of cupronickel. Its weight is 13.7 g and its diameter is 35 mm. Mintage of this kind of coins is 30 000. Every purchase of such coin will be accompanied with the card showing Dawn of Justice and the card showing one of the heroes from the film.
Price for this coin is 29.95 Canadian dollars or 21.50 American dollars.
1/2 ounce 4 Coin Subscription 2016 dedicated to Batman v Superman with its face value 10$
Material, chosen for these four coins is 99.99% pure silver. Each coin is one-half oz. All these 4 coins have different design. One of them has a logo on it. The second one shows Superman, who courageously goes straight. The third one has image of jumping brave Batman. And the fourth coin depicts Wonder Woman. Weight of one coin is 15.87 g. Diameter of each of them is 34 mm.
Price for one coin is 49.95 Canadian dollars or 35.85 American dollars. Subscribers for set of 4 coins will receive display case for 4 coins together with the last coin delivery. Mintage of these sets is 15 000.