Canada has released another unique coin in the contest for bullion domination.
The Royal Canadian Mint has released the 10-ounce .9999 silver fineness of bullion coin, which is first in its series. This is the novice line of special series, which celebrate the well-known and sought-after natural wonder of Niagara Falls.
This is an Uncirculated Brilliant of a 50-dollar coin. Its coinage is 15,000 pieces. It has radial lines all around.
You can see Arnold Machin effigy of Elizabeth II on the observe side. It used to be the common image of all Canadian coins in the period between the years 1965 and 1989. It excludes the current image of Susanna Blunt.
On the reverse side, one can find a romantic pair that stands on the observation deck at Horseshoe Falls.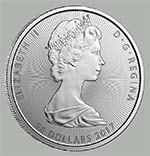 Niagara Falls is one of the greatest precious possessions of Canada, which is well known in every corner of the world. It is the natural border between Canada and the United States of America in the southeast of the country. Each year, about 12 million of people from all parts of the planet come to see this incredible wonder of our nice nature.
Private partner
This program is conducted by the Royal Canadian Mint and its partner - Bullion Exchanges, which is a private company. It was suggesting it in two forms - individual and/or in a pack of 25 coins. All the coins are individual.
The prices for both of these amazing and beautiful options depend on the instant cash payment and other kinds of payment. If paying with cash, you can get them at the lowest possible cost.
The 25-coin pack costs 213 dollars. The individual cost is 220.60 dollars. In the case, you are interested in it you can purchase it from our resource.