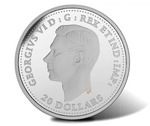 In 2017 the Royal Canadian Mint decided to celebrate the act of bravery of almost 40,000 men and women who took part in the Bomber Command during WWII. $20 1 oz pure silver coins depicting this event were released and available for purchase in 2017.
The reverse side of the coin aims to commemorate people who took part in the Bomber Command during WWII.
The Second World War Battlefront series of coins added the fourth coin to the series, which is made of 99.99% pure silver. It depicts the Canadian contribution to the battles during the WWII. Only 7,500 pieces are available for sale.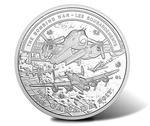 Canadian artist Glen Loates designed the picture of reverse side of the coin which shows Avro Lancaster B. III bombers which go through the missile rain during bombing mission against Germany. This huge and detailed battle scene is surrounded by the engravings THE BOMBING WAR – LES BOMBARDEMENTS," "1939-1945," "CANADA," and "2017."
A historical portrait of King George VI is located on the coin's obverse side. The author of the original portrait was Thomas Humphrey Paget. This portrait is surrounded by the inscriptions "GEORGIVS VI D:G:REX ET IND:IMP:" and "20 DOLLARS."
The Main Characteristics
The total amount of coins minted is 7,500. The coin consists of 99.99% pure silver. Coins have a collector proof finish. The weight of the coin is 31.39 g, the diameter is 38 mm. Coins have serrated edge and serialized certificate. The value of each coin is $20, designed by Glen Loates and Thomas Humphrey Paget.
Purchase
People can order this coin on the Royal Canadian Mint's website at mint.ca. It costs CAD $92.95, or approximately US $74.50.
Each piece is encapsulated and is delivered in a Royal Canadian Mint-labeled maroon clamshell with a custom-made box.