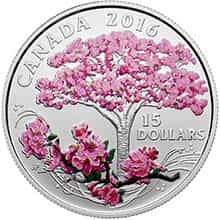 The main adornment of the new coin, made by Royal Canadian Mint, became spring blooms. Seems, it will be sold out very quickly. Number of these released silver coins is 6 500. More than 80% of them have been already sold.
The price at CAD is 64.95$ (it is 48.50 USD). Material, chosen for coins is 99.99% silver. Design is really unusual and colorful. Seems that real cherry tree of Kwanzan is blooming on the coin.
The website of Royal Canadian Mint describes the pure silver coin like a breathtaking piece of art with tender shades and pink colors palette which fill the coin. In Japanese culture the cherry tree blossom, which is the most beautiful in early spring, is very symbolic. From ancient times till now it inspires poets and artists and continues to be an adornment on festivals of numerous countries with different cultures.
This pink sign of spring is adored by numerous Canadians with the famous Vancouver's Cherry Blossom Festival. By the way this year it's 10th anniversary of this fest. Also there is a stand with such trees in High Park, Toronto. It was done to remind about endless friendship between Japan and Canada.
Specifications and Design Cherry Blossom Coin Made of Silver
The breathtaking design (image of pink cherry blossom) of the tail side of the silver coin was worked out by Jan Poynter, Canadian artist. The delicate blossoms are enhanced by detailed engraving. Its pink color adds effect to the image. There are two inscriptions on the reverse: CANADA, 2016 and 15 DOLLARS, which is coin's face value. Jan Poynter put his signature on this masterpiece like JP on the left under the pink blossom.
Queen Elizabeth II is portrayed by Susanna Blunt on the head side of the coin. There are two inscriptions here: ELIZABETH II and D G REGINA.
The Royal Canadian Mint provided the following specifications:
Number of Royal Canadian Mint Product: 150432
Mintage of one lot: 6500
Material: 99.99% silver
Finish of coin: proof
Weight: 23.17 g
Diameter: 36.07 mm
Edge of coin: serrated
Certificate for product: serialized
Coin face value: 15$
Reverse Designer: Jan Poynter
Obverse Designer: Susanna Blunt