Ellis Island Quarter Types of Products
Ellis Island quarters are ready for circulation, but they have never been used. Those coins that were produced in Philadelphia and Denver can be used in circulation and were meant to, but those coins minted in San Francisco were released merely for numismatic use, you can see them in bags and rolls.
Release Ceremony
The official release ceremony took place on Ellis Island on August 30, 2017. It was hosted and presented by The National Park Service and U.S. Mint. The ceremony was situated in the Flagpole Area. People could buy the rolls and bags with Ellis Island quarter there. Also, after the release ceremony, Mint representatives took part in the forum dedicated to coins and answered the questions of people.
How to Purchase Quarter Rolls and Bags
Ellis Island quarter rolls and bags can be purchased from the U.S. Mint's online store or by phone 1-800-USA-MINT (872-6468).
2017 America the Beautiful Series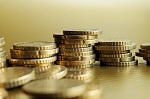 Every Year the U.S. Mint releases 5 coins in terms of America the Beautiful Coin Series. In 2017 4 coins were released including Ellis Island one: Iowa Effigy Mounds National Monument, Washington D.C. Frederick Douglass National Historic Site, and Missouri Ozark National Scenic Riverways.
Here you can see photos of the five 2017 America the Beautiful Quarters. Those coins are in a collector proof set and the 5th one is to be released in November 2017. The designs were presented earlier in 2017.
In November, 2017 the 5th coin of America the Beautiful will be released, stating the beauty of George Rogers Clark National Historical Park of Indiana.
America the Beautiful Series 5 Ounce Silver Coins
Designs from Ellis Island quarters are presented on larger 5-ounce silver coins as well. They are of the finest silver quality 999 and are 3' in diameter. Bullion strikes were sold through the authorized U.S. Mint network. The price was higher than the market price of silver amount in each piece. Also, there are Ellis Island Five Ounce Silver Uncirculated Coins produced by Philadelphia Mint facility. They were sold on September, 7 to the public for $149.95.