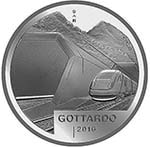 The colossal railway tunnel, Gotthard Base Tunnel, will be opened on June, 1, 2016. Undoubtedly this huge rout with its length 57 km deserves the issue of the special exceptional coin, which reminds about this achievement. Gotthard Base Tunnel is the first in the world low-level railway in the Alps. 17 years were spent to construct it. The Swiss Mint has been already released honoring coin.
Designer of the obverse became Fredy Trümpi. Silver 20 SFr. coin is decorated with a picture of train in the north portal of tunnel with inscription GOTTARDO 2016. On the other side of coin it is written year of issue, denomination and name of nation.
Honorable guests from Europe were invited for the official ceremony of the construction of the epoch opening.
Public fests will be held on the 4-5th of June.
Movement through the new tunnel will be possible after the 11th of December, 2016. Travel from north to south and to reverse direction is expected to be much faster than it was before. On this line passenger trains will run once per 30 min. The number of freight trains to be used on this line is 260 (only 180 trains were before).
Speed of passenger trains is expected to reach 200 km/h (or 124 mph). Speed of freight trains is expected to be about 100 km/h (or 62 mph).
There are two versions of coin design. Both of them have the following parameters: weight - 20 g, diameter - 33 mm.
30 000 of uncirculated coins are available. And 5 000 of proof version are issued. Coins will be offered by Distributor Coin & Currency Institute. Their price will be informed later.