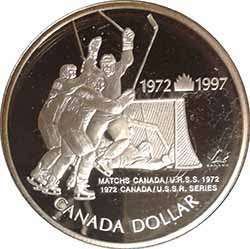 As any sport, hockey has great moments making us experience emotions that go far from a regular game satisfaction. 1980 was a shocking year for Soviet Union, as Olympic team beat the Soviet team and it was one of the most exiting matches in American hockey history. However, Canada also has a story to tell regarding Cold-War period and it happened in 1972, 8 years before famous American match.
The year 1972 was a hard one for Canada, as its national hockey team was isolated from the International Ice Hockey Federation because of the professionalism issues and their place in top-rating suffered from Soviet team. In September 1972, the Summit Series 8-games hockey championship between Soviet Union and Canada was conducted. This championship was the first time of interaction between these hockey teams on professional and international levels. Team Canada consisted of the best players from National Hockey League.
Of course for the both sides it wasn't simply a hockey game, it was way more important than sport event - a point of honor and international national image. Victorious goals were made by Paul Henderson in the 6th, 7th and 8th series of matches making him highly regarded and mostly worshiped in Canada. Canadian mass media were solid in opinion that the last goal was the best sport moment of the century thanks to Henderson.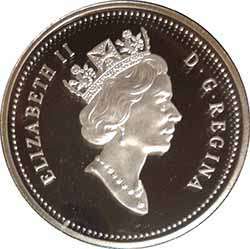 25 years later, in 1997 Canadians decided to honor the best sport moment by minting an annual silver dollar depicting Paul Henderson after his victorious set of shots with hands held high and pure joy on his face. This picture means a lot for any Canadian hockey fan. These coins are available both in Proof and Brilliant Uncirculated variants.
The series of amateur hockey coins were released in 2006 as a tribute to long-running international hockey matches. The 75th game of these series is eternalized by Canada's annual Proof gold $100 coin, made of 5833 fine gold. These long-running matches are usually made between educational establishments of military forces: Canadian Royal Military College and American Military Academy at West Point. The first game of this kind was held in 1923 and the tradition is still continuing. The reverse side of this coin depicts the building of Canadian Royal Military College on the background of certain stickmen.