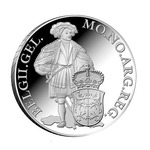 There were issued the newest silver Proof ducats by the Royal Dutch Mint. The Dutch nation used this domination for over 350 years. These coins played an important role in the early periods of European as well as worldwide trading. During those times, this was one of the most dependable and stable money, which was trusted by several countries. This induced Asia, both American continents and some other regions of the world. Therefore, the Dutch nation wished to honor the popularity of their coin.
This novel coin is the second addition in the year 2016 and the number four in the present series of Ducat. It was launched only in the year 2015. The main focus of this release is the famous province, which is called Gelderland. This is the biggest province out of all twelve. It was established in the year 1089. This was the beginning of the Holy Roman Empire. It has a great historical meaning for this land.
It received its name due to the city of Geldern that is situated not far from the province. Nowadays, it is the part of Germany. This province was included to the country of the Netherlands in the year 1815. This is the heart and cultural center of the Dutch nation. In the present days, it is known for its commercial and industrial development. The capital of this province is called Arnhem. There live 170,000 of citizens. The population of the entire province is a bit more than two million habitants.
You will find on the observe side an image of Charles II. He was a great duke. On the coin, he is depicted in the uniform of an Unknown Knight. He ruled this province for the year 1492 and until his last days on the Earth – 1538. There can be also seen the shield of the province. This is a crowned crest, which has two lions that face one another.
On the reverse side is depicted the present Dutch crest. It is crowned with the year when the coin was released (2016). There is also the Latin inscription, which is CONDORDIA RES PARAVE CRESCUNT. It means that in the harmony grow small things.
The weight of the Ducat is 28.2 g and its diameter reaches 40 mm. the coinage limit is 4000 pieces and is made out of .873 silver.
This is not a simple collection coin. It has the official status and has its own value. The novel examples are always released in the standard .873 silver fineness. This is a common standard for the trade coins. The main idea of the officials is to represent on the coins all of the provinces. After that, the general design will be altered.
This universal and currently trading coin is also available on our resource.