Miguel de Cervantes is a famous author of the legendary novel called "Don Quixote". His image on the coins is one of the most sought-after ones. On the 400-year anniversary of his death, the Royal Mind of Spain got three are coins with the writer depicted on them.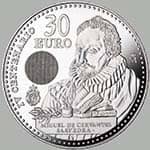 You will find a portrait of Spanish King on the front side of 30 euros coins. There you will also find his wife. The king's name is Phillip IV. There is a text on the top circle. It is "FELIPE VI Y LETIZIA". There below, you will find the name of the issuer and the year - 2016.
The portrait of the writer will be found on the reverse side. The coin is set in two lines. You will find there a text, which is "IV CENTENARIO".
The coin was issued in the year 2016 by Spain. Its rating is 30 euro. The diameter reaches 33.00 mm and it weighs 18.0 g. Its metal is Ag 925.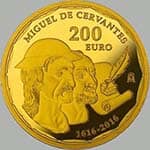 The silver coin with a rating of 10 euros depicts the monument to the writer, which is located on a square Cortes in Madrid. It was released in the year 2016 by Spain. It was made out of metal Ag 925. Its diameter is 40.00 and its weight is 27.0 g.
Finally, our partnership offers you the gold coin with a rating of 200 euros. It depicts the terracotta busts of Don Quixote and his faithful squire Sancho Panza. It was also released by Spain in the same year - 2016. It is made out Au 999. Its diameter reaches 23.00 mm and its weight is only 6.75 g.