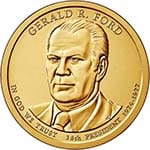 Gerald Ford did a lot for his country. He was the President of the USA (1974-1977). In his honor the 38th Presidential Coin with its 1$ face value was launched by the U.S. Mint. On the 8th of March these coins became available for purchasing. As well there are rolls and other packaging (bags, boxes) with these circulation coins
Every year the U.S. Mint makes 4 kinds of Presidential 1$ coins. The first mintage was in 2007. Each mintage of such coins is devoted to one of the Presidents of the USA. This year U.S. Mint had already produced coins in honor of Richard Nixon, the 37th President. And after release of Gerald R. Ford Presidential coin they are going to produce coins in honor of Ronald Reagan. The manufacture of the last one is planned for July 2016.
Designs worked out for Presidential 1 dollar in honor of Gerald Ford
The designer of the obverse became Phebe Hemphill. He was chosen of four candidates as he had shown himself the best in the competition. He worked out image of President Ford with the inscriptions around it GERALD R. FORD, 38th president, 1974-1977 and IN GOD WE TRUST.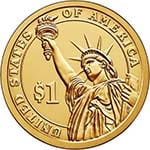 Don Everhart had drawn the back side of the coin. Here there is Statue of Liberty with the inscription around it UNITED STATES OF AMERICA.
Weight of one coin is 8.1 g. Its diameter is 26.49 mm. Thickness of the coin is 2.0 mm. Material of coin has the following composition: 88.5% Cu, 6% Zn, 3.5% Mn and 2% Ni.
Number of Coins in Rolls, Bags and Boxes is 25, 100, 250 Correspondingly
Six variants of product options are offered by U.S. Mint. The prices for different options are below:
| | |
| --- | --- |
| OPTIONS OF PRODUCT | PRICE |
| 1$ Presidential Coin Roll (25 coins) - P | $32.95 |
| 1$ Presidential Coin Roll (25 coins) - D | $32.95 |
| 1$ Presidential Coin Bag (100 coins) - P | $111.95 |
| 1$ Presidential Coin Bag (100 coins) - D | $111.95 |
| 1$ Presidential Coin Box (250 coins) - P | $275.95 |
| 1$ Presidential Coin Box (250 coins) - D | $275.95 |
The package of the coins sets has information on it about name of the president, face value of all coins together in it and mint which released these sets.
How to order 1$ Presidential Coins?
It is easy to buy these coins online with the help of catalog of the U.S. Mint. As well you may buy it by the following telephone number 1-800-USA-MINT (872-6468).
There are no limits in number of coins for order as the production quantity depends on demand. The same is with the other Presidential coins 2016. Previous year the mintage of Presidential dollars was from 8 400 000 to 12 040 000 coins.