The Royal Australian Mint Releases Color $2 Circulation Coin in Honor of Remembrance Day
In order to honor the Remembrance Day the Royal Australian Mint released a 2$ coin with a color application. It is so-called tribute to the countries of Commonwealth Charter and events of World War I.
The Remembrance Day aims to commemorate the glorious and sorrowful moments during the World War I.
In 1917, when Russia was isolated from World War I to cope with instability in the country because of revolution, US joined the allied side in one row with Great Britain and France. These four years of continuous fighting exhausted all the countries, as new techniques, strategies, machines, weapons, chemical and industrial developments helped to finally vanquish the foes and give an end to the instant bloodshed. The peace was established on the 11th of November, 1918 at 11 AM. The Remembrance Day has a special and important meaning for modern Commonwealth countries, as a lot of lives were given to maintain desirable peace. Australians also take part in Remembrance Day celebration, as their input into world peace was grand under the commandment of British Forces.
The coin from the reversed side has etched fragment from the poem "In Flanders Fields" by John McCrae, surrounded by orange stripes, symbolizing sun beams from the poem and few skylarks, symbolizing a start of the new period after the combat. John McCrae was a Canadian military physician and he'd observed a lot of horrible events during World War I. The other side of the coin has an image from Australian circulation created by I. Rank-Roadley, a famous coin-collector.
Denomination - $2
Metal - Al-Br
Diameter - 20.5 mm
Weight - 6.6 grams
Quality - UNC & Colored
Mintage - 50,000 pieces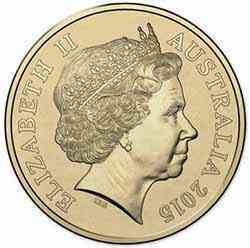 Also the year of coin's release coincides with 100 years since "In Flanders Fields" was created. More than 2 million circulating coins are planned for national distribution. A special and limited proposition will be of current interest for Australia, as people will be able to buy the pack of 5 circulating coins for 10 $ online, excluding shipping and delivery of any kind. The version for collectors with distinct design will cost 12.50$.
These and other commemorative types of coins will be available on the special "Changeover Tour" and Royal Australian Mint will take a part in it, providing special coins not only in Canberra, but also in other locations starting from New South Wales.