Coins with the exclusive themes for their design and different variants of finishes and materials are offered by the Perth Mint of Australia.
The leader of sales was the silver coin with the emblem of Odin on it. First it appeared among coins of Norse Gods series.
For now collectors may be happy to become an owner of an Australian Great White Shark Map-Shaped Coin, Returned & Services League Centenary Coins available in two different materials (silver and gold), ANZAC coins made of aluminum bronze or made of gold, Tiger Cubs coin made of silver and a Gumnut Babies Stamp and Coin Cover devoted to its100th anniversary.
You'll find information about listed collectible coins below: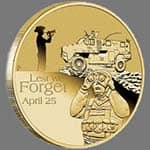 1$ Anzac Coin 2016 in Card
Spectacular scene of a bugler's silhouette and a Bushmaster Protected Mobility Vehicle near him was chosen for the design of 1$ Anzac Coin. Two inscriptions on this coin keep the memory about Anzac Day.
Mintage of 1$ Anzac uncirculated coin is not limited. Each coin is accompanied with the display card and a fold-out stand for comfortable vertical display.
1$ Great White Shark Map-Shaped Coin 2016 Made of Silver Issued in Australia
The 9th release of this coin appeared in the series of Map Shaped Coin made by the Australian Perth Mint. The colorful and marvelous picture of this release shows a Great White Shark which swims in the dark-blue ocean depths near the broken boat.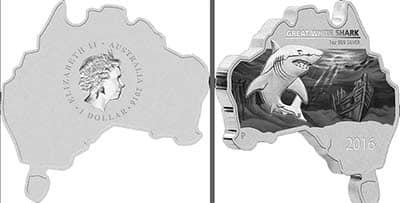 Composition chosen for this coin is pure silver (99.9%). Every coin has an authenticity certificate with its unique number. Shipping of coin is accompanied with a display case by the Perth Mint. There were 6 000 of such coins released.